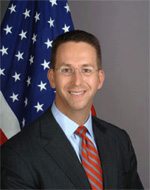 How has your work changed given Covid-19? Do you have a particular role in the Covid-19 response and what does it encompass?
As Executive Director of the USAID COVID-19 Task Force, I lead USAID's agency-wide response to the pandemic. We have three objectives: to ensure the safety and security of our global workforce, to continue life-saving missions across the world, and to support partner countries in their response to COVID-19.
Part of my role is ensuring collaboration within USAID—to ensure that we use the best tools USAID has available. I'm also focused on ensuring collaboration outside USAID, and we are working directly with governments, multilateral organizations, NGOs, the private sector, and others to collectively fight this global threat and closely coordinate efforts.
USAID was on the frontlines against Ebola and has been a steadfast partner to countries as they combat diseases like malaria, HIV/AIDS and tuberculosis. In this crisis, we are working with partner countries around the world (see USAID is supporting countries affected by COVID-19) and in many cases building on decades long partnerships in global health.
This public health challenge is unique—each country is battling this pathogen at home at the same time they seek to help other countries. I'm proud of our global COVID-19 response efforts at USAID. We have rapidly reoriented our resources and adapted the way we do business amid this outbreak to mobilize the right people in the right places to drive our global response.
How has USAID's work in malaria, and other disease areas impacted its response to COVID-19?
The U.S. President's Malaria Initiative (PMI)—led by USAID in partnership with the U.S. Centers for Disease Control and Prevention—has invested more than $7 billion since 2006 in malaria control and prevention. With our country partners, and other organizations such as the Global Fund and the Gates Foundation, we have reduced malaria mortality by 60% since 2006, saving over 7 million lives, and averting over 1 billion cases of malaria. Those results have been game-changing. When PMI began, malaria was crippling health systems and draining economies. I've heard health workers in multiple African countries describe how clinics once overflowing with malaria patients have cleared—unlocking valuable time and resources that can be used to treat other diseases.
The U.S. President's Emergency Plan for AIDS Relief (PEPFAR) is also an amazing story. Through PEPFAR, the U.S. government has invested over $85 billion in the global HIV/AIDS response, the largest commitment by any nation to address a single disease in history, saving over 18 million lives, preventing millions of HIV infections, and accelerating progress toward controlling the global HIV/AIDS epidemic in more than 50 countries.
As we fight COVID19 with our partners, we will build on cross-cutting investments in supply chains, data systems, disease surveillance networks, and health worker training at the same time we work to ensure that our life saving programs continue uninterrupted.
What can the malaria community learn from the Covid-19 response? Similarly, are there lessons from malaria that can be integrated into the Covid-19 response?
When Ebola struck Africa, malaria also increased because health systems were disrupted; the rise in malaria ultimately took more lives than Ebola did. To mitigate Ebola's impact, PMI rapidly reoriented resources, adapted community treatment protocols for malaria, and deployed emergency mosquito nets to new malaria hotspots. Quick action by PMI and other donors, countries, and others in the malaria community meant many lives were saved.
Like Ebola, COVID-19 has the potential to disrupt health systems and threaten the remarkable progress seen against malaria worldwide. The global malaria community must do everything possible to ensure continuity of lifesaving malaria programs amidst the pandemic. PMI and other partners are guiding adaptations to malaria programs now to ensure essential services continue during the COVID-19 pandemic. We will need to continue to adapt our approaches as we see more of the impact of COVID-19 in malaria endemic countries.
Any other reflections you would like to share?
In September 2019, the Lancet Commission on Malaria Eradication published a report that concluded malaria can and should be eradicated by the year 2050. This report brought renewed purpose, urgency, and dedication to the global malaria community and clear recommendations on how to ensure a malaria-free world within a generation. The next months are going to be extremely challenging. It is important we keep sight of this vision for a world without malaria—and the energy, innovation, and determination that will get us there.
Dr. Ken Staley – Dr. Ken Staley leads the U.S. President's Malaria Initiative, a collaborative U.S. Government effort led by the U.S. Agency for International Development (USAID) in conjunction with the Centers for Disease Control and Prevention, the Department of State, the White House, and others. Prior to this appointment, Dr. Staley was a consultant at McKinsey and Company, where he assisted with large public health crisis responses to Ebola and Middle Eastern Respiratory Syndrome and served clients in the pharmaceutical and medical device industries. Before joining McKinsey, Dr. Staley was an executive at Medtronic, where he led several ventures to expand access to medical technology in emerging economies. During the George W. Bush administration, he served as Acting Deputy Assistant Secretary for Counter proliferation in the Department of State's Bureau of International Security and Nonproliferation. Prior to his work at the Department of State, he served as Director for Biodefense Policy at the White House Homeland Security Council Biodefense Directorate, where he coordinated implementation of the National Strategy for Pandemic Influenza and developed preparedness and response policies against bio threats. Dr. Staley received his M.D. from the University of Iowa's Carver College of Medicine. He also holds a Master of Public Administration from Harvard Kennedy School and an A.B. in biology from Washington University in Saint Louis. In March 2020, Dr. Ken Staley was appointed to lead the USAID COVID-19 Task Force.